Stewart Veterinary Group is a small Los Angeles based animal general practice equipped to perform x-rays, dentistry, ultrasound, and general surgery.
We have both digital regular x-ray and digital dental x-ray to offer, both using new machinery and software with the ability to send and receive x-ray studies electronically. With our ultrasound, we are capable of abdominal and cardiac exams, and we can share studies electronically with specialists should we need to. Dental cleanings and extractions have never been easier, and new equipment lessens the time a pet must be under anesthesia.
We also perform an array of day to day services which include annual physical examinations, vaccines, new puppy or kitten checks, as well as health certificates for national and international travel.
We may have a new building, but the faces you see will be the same faces you and your pets have come to know over the years.
Dr. Moller is a native Southern Californian who traveled to Mississippi for his veterinary medical degree, then returned to California for internships in surgery and internal medicine. Dr. Moller has been practicing General Medicine and Surgery for 25 years now, and he is very excited to be finally working for himself!
Dr. Moller lives with his wife, Rose, daughter Langley, and five dogs in the South Bay.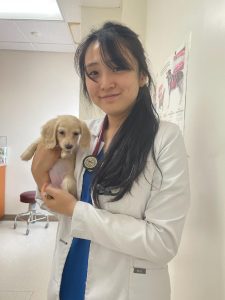 Dr. Jo was born in Korea and grew up in South Pasadena, where she developed a love for animals and a passion for helping them. She then returned to Korea to pursue her undergraduate studies and Doctorate of Veterinary Medicine.
She went on to complete an extensive clinical training at Oklahoma State University. During this time, she honed her skills in treating various animal species and developed a deep understanding of the complexities of veterinary medicine. She is a proud member of the American Veterinary Medical Association(AVMA).
Throughout her career, Dr.Jo has demonstrated her unwavering commitment to her patients' health and well-being. She is known for her gentle and compassionate approach to animal care, always putting the needs of her furry patients first.
When she's not at work, she loves to engage in outdoor activities and cherishes spending time with her family, including her beloved cat named Dalee (and she still misses her first cat named Byulee everyday!).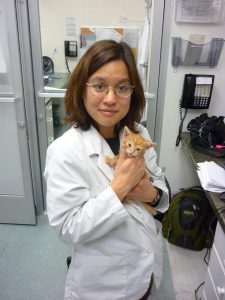 Dr. Allison Pang was born in Portland, Oregon. She graduated from Western University in 2011 and complete a small animal internship at VCA West Los Angeles Animal Hospital a year later. She tried to move back to Oregon, but missed the sunny California weather and gorgeous beaches. Besides being passionate about veterinary medicine in general, her special interests are surgery, dermatology, and feline behavior. Outside of work she enjoys kayaking, rollerblading, VR gaming and relaxing with her three cat children Cinder, Splenda and Seven.
Thank you to you the clients who have stuck with us through the last two very challenging years!  Dr. Sinnott who has been with us for about 3 years, has moved to Oregon permanently, although she will be down occasionally for some relief work for us.  In her absence, our schedule has become very full.  If we need to schedule your non-emergency exam far in the future, please bear with us.  We are actively trying to find another veterinarian who will help us full time, but we do ask that you remain patient and allow us to triage your pets' needs according to our schedule.  Thank you and have a great summer!